Once again my apologies for the technical difficulties last week, which prevented me from posting a few more statues, along with people standing by them.
To make up for this, I thought I'd treat you to what I hope will become a regular series, namely pictures of celebrities stood by and imitating their own statues! Are you a celebrity? Are you famous enough to have had a statue erected of you? Do you have a photo of you Stood By your Statue? If so, then please email them in!
And so, enough small talk, who is the first celebrity to send their photo in I hear you ask?
*huge great drum roll*
Why it is none other than
Bert
, famous superstar from the TV series Sesame Street. Nice to see that his good friend Ernie was able to look on as Bert stands by his staue of Bert.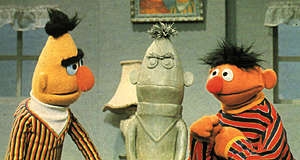 Nice one Bert!
(rumours that
Bert is evil
are scandalous and untrue in my opinion. He's a legend, simple as that).