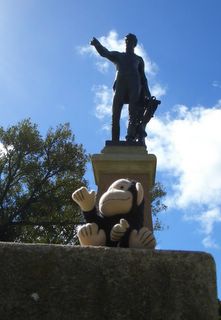 It gives me great pleasure to introduce you to Bobo, seen here enjoying the sun, sounds and sites of
Adelaide
in the summer. May I be the first to pass on huge gratitude to Bobo for interrupting his hectic travelling schedule to embark on a spot of statue imitation for us. And what a superfine piece of imitation it is too!
Here he has taken time out to imitate one
Colonel William Light
, founder and planner of the city of Adelaide in South Australia. Many thanks to Bobo's travelling buddy, Siôn Williams, for sending this photo in.