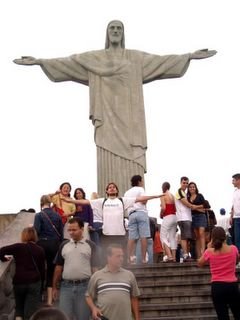 It's always great to receive an imitation effort of the greatest statue of them all – the
Christo Redentor
statue in Rio. Seems quite topical to post this what with
Brazil
playing football tonight. So, big thanks to Simon for sending this one in. After the photo was taken the Brazilian tourist whom had taken it, remarked in broken English "You look like him".
Quite a compliment there, and all in all,
a darn finer effort at Standing By The Redeemer than mine
….!