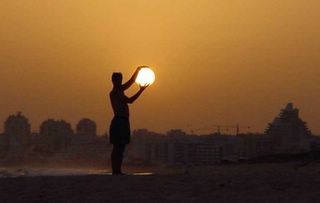 It's not all just Standing By Statues, y'know.
My apologies for the slightly lower level of postings in recent times as illness has struck a bit. Must get back on it though as I still have loads of photos here. You're gonna have to put up with this 'ole blog for a little while longer yet I'm afraid…
This impressive piece of Stand By And Take A Hold Of Your Sun action was submitted to me by one
Swiss Toni
, thoroughly nice gentleman that he is.